Hiking is more fun when you bring your dog along. These are the top dog friendly hiking trails in north county San Diego.
Hiking is fun for the people and the dog. It is great exercise and a way to explore the local region. When hiking in San Diego County, dogs must be on a leash at all times. If you have a small dog be sure to keep them close to you as urban coyotes, bobcats and the occasional mountain lion consider them to be fair game. Most of these trails do not have facilities, so bring plenty of fresh water for yourself and your canine companion.
Lake Poway Loop
The Lake Poway Loop goes around the reservoir. It is a popular destination for local residents year round. There is a $10 fee to park in the parking lot. A well conditioned large dog could cover more distance such as Blue Sky Ecological Reserve to Lake Poway (5.3 miles), or Lake Poway to Lake Ramona (5.7 miles).
Los Penasquitos Canyon Trail
This trail is an easy 7.3 miles that features San Diego historical sites as well as rich biodiversity. There are remains of prehistoric cultures, Indian tribes and Mexican adobes located in the park. The loop meanders around Penasquitos Creek. Wildlife includes frogs, crayfish, bass, aquatic birds, deer, coyotes, and bobcats.
Piedras Pintadas Interpretive Trail
The name Piedras Pintadas means "Painted Rocks." It is named after the original Kumeyaay inhabitants who left hieroglyphics in the area. The trail features a series of interpretive panels about the Kumeyaay culture as you go along the trail. The lake was created in 1918 when they built the Hodges Dam on the San Dieguito River.1
Coast to Crest Trail at Lake Hodges
The trail head of this dog-friendly walk is located close to the Sikes Adobe Historic Farmstead in Escondido. It is a part of the bigger Coast-to-Crest Trail that stretches from Del Mar to Julian. The trail has access to the Lake Hodges Bicycle Pedestrian Bridge, the longest Stress Ribbon Bridge in the world, completed in 2009.
Lake Miramar Loop
Miramar Reservoir provides drinking water for the City of San Diego. It also provides a five-mile walk for visitors and their dogs. The parking lot fills up quickly on weekends. There is a paved road that goes around the lake, as well as an unpaved path. The lake is stocked with fish, and many species of birds can be spotted.
Ramona Grasslands Preserve Trail
This trail is part of the 3,521-acre Ramona Grasslands Preserve. This trail is open from sunrise to sunset. However a permit is required to enter the northwest section of the reserve. The area supports 408 plant species, over 100 types of birds, 27 reptiles and amphibians, 37 mammal species, and 23 types of butterflies.
Mule Hill Trail
Mule Hill is a historical site where US troops retreated after losing the 1846 Battle of San Pasqual in the Mexican-American War. They later had to eat their mules for lack of rations.2 The trail head is located near the Sikes Adobe Farmhouse south of Kit Carson Park. The trail heads east from the Highland Valley Trail Staging Area.
Jack Creek Meadow
The 3,201-acre conservation area of Daley Ranch offers some of the best trails in San Diego County. There are over 20-miles of hiking trails available. The Jack Creek Meadow Loop takes you past the historic Daley Ranch. For a less strenuous journey try the 2.5 mile Ranch House Loop, or walk out and about Dixon Lake.
Batiquitos Lagoon Trail
This three-mile walk is a chance to see one of southern California's last preserved coastal wetlands. There is a self-guided nature tour, and endangered species of bird such as the Snowy Plover, California Least Tern, and Clapper Rail have been spotted there. Every two years the lagoon is dredged for sand accumulation.
Hellhole Canyon Preserve
Hellhole Canyon Open Space Preserve includes 13.5 miles of trails to explore with a leashed dog. Hikers looking for a challenge can climb Rodriguez Mountain. The preserve is named after Hell Creek in the same area. It is best enjoyed during fall through spring, as the heat can be extreme during summer months.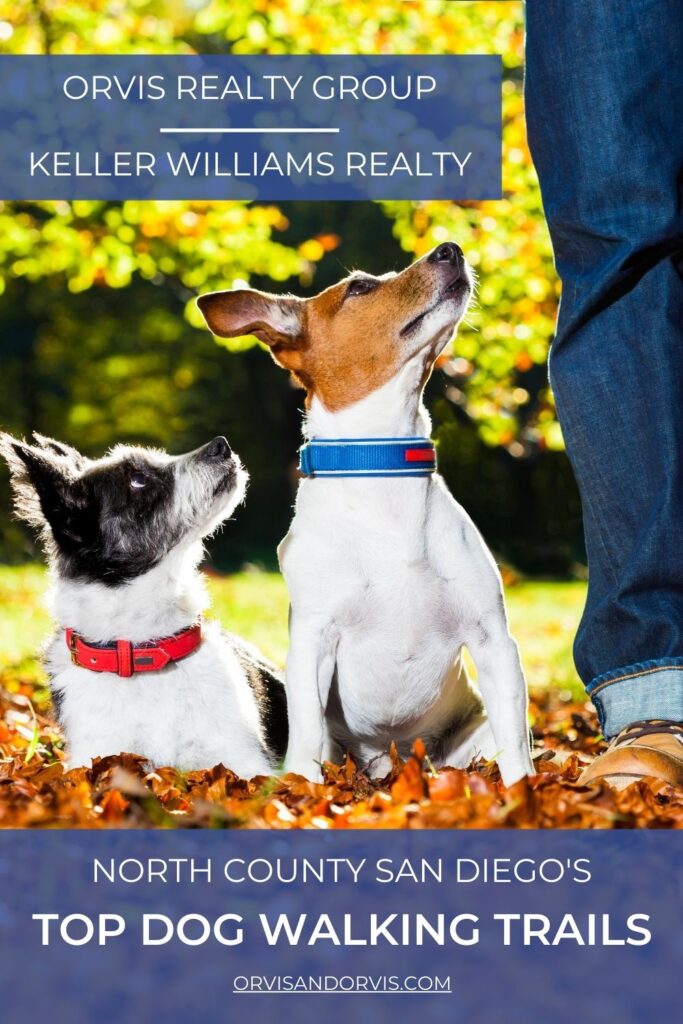 References: