Buying a condo can be a great option for first time home buyers, as well as investors, and those who are looking to downsize.
There are many reasons someone might buy a condominium. It may be a more affordable option for someone living in a heavily populated, urban area. Or perhaps they do not want the responsibility of maintaining the exterior of the property. But they still want to build the investment equity and a good credit standing that comes with owning real estate property. And they like living in a close knit community of friendly neighbors.
Determine Your Budget
First decide how much you can afford to spend.
Each month you will have to pay a mortgage instead of rent. Generally the amount you can borrow depends on how much you can afford for a monthly mortgage payment. The lender also considers your credit history when calculating the interest rate. The time you have to repay the home loan is usually from ten to 40 years.
Then you have to save up a down payment so that up you qualify for financing. This is usually from 3% to 15% of the purchase price. Of course lenders look favorably upon greater down payments.
First time home buyers often qualify for low interest home loans from the federal government, which require only 3% down payment. This is known as a Federal Housing Administration (FHA) Loan.1 The US Department of Housing and Urban Development (HUD) also offers Reverse Mortgages for senior citizens.
This is a good time to clear up any outstanding debts that might be negatively affecting your credit history. This does not mean student loans. You can still qualify for a home loan if you are still paying off student loans.
Get Pre-Approved for Financing
It is easier to buy a condominium, or any real estate property, after you have been pre-qualified for a home loan. This indicates you are a serious buyer with the funds to back up your interest in owning the property.
At this point you should contact your mortgage advisor before making any major financial decision. Do not change jobs. Do not put extra charges on your credit cards. Do not take out a car loan. Do not rent furniture. Do not co-sign a loan. Do not change bank accounts. Do not even pay off a major debt without consulting them.
It can be harder to qualify for an FHA loan from the government if you are buying a condominium. But there are a lot of condos that will qualify. Check the HUD's website for more information.
Find an Experienced REALTOR®
Condos are different from houses because of the extra rules and restrictions. For example there is a monthly condominium fee that goes toward upkeep of the communal property such as the landscaping, parking lots, pool, and lobby.
Make sure you find a real estate agent with experience buying and selling condominiums. They can tell you if it sounds like a good deal and/or living situation.
If you find listings for condominiums online or elsewhere be sure to send them to your real estate agent. Visit the condos you are interested in with your real estate agent.
Inspect the Property
After you find a condominium or townhome that you like, there is still the inspection.
The maintenance of the exterior of the property is handled by the property management company. The tenant is responsible for the interior of the condo.
First do a visual inspection, including the common areas. If the property is poorly maintained it could be a sign of a not reliable property management company. You could be financially responsible for this later under the terms of your contract.
If you do not see any major issues, you should still hire a professional home inspector to check out the property before you buy. Your real estate agent should be able to recommend a good home inspector. But the choice of inspector is up to you, and you do not have to pick whoever they recommend.
Check the Restrictions
Residents of condominium communities are subject to more rules and regulations. This is because the property is communally owned by everyone in the complex.
For example there could be restrictions on short term rentals on websites such as Airbnb. You may be required to live on the property, meaning you cannot rent it out to someone else. There might be limits to the size and breed of pets. You may be expected to attend HOA meetings to make financial decisions. Then you could have to write a check to contribute to community renovations.
Your REALTOR® should be able to read the contract and explain anything that seems confusing. They can also help you to negotiate with the HOA association, and other services and contractors.
Interview Residents
It is a good idea to interview other residents of the community to get a better idea of what life is like there. If there are a lot of warnings and complaints about the HOA association and/or property management company, it could be a red flag that this is not the right condominium.
This is also a good way to check and see if the neighbors are tolerable. Ask if there are community events.
You should read the reviews of the property management company and HOA association on websites such as Google or Yelp. This is in case there are any horror stories from former residents — or dozens of them.
Close Escrow on the Property
Closing escrow involves signing a lot of forms and transferring the funds to the appropriate individuals. Your REALTOR® should make sure everything is signed on schedule. Then they will give you the key to your first condo.
Move in and Decorate Condo
This is probably the most exciting stage because it is time to move in to the condo. It is also exhausting moving all the furniture and heavy boxes. Then you will be able to redecorate as you see fit, as long as it does not violate any community rules. Because it is your property with all the implied legal responsibilities and benefits.
Orvis Realty Group | Keller Williams Realty has decades of experience buying and selling condominiums for clients in the local area. They know the right questions to ask about the condo association, monthly fees, and property management companies. Do not hesitate to contact them with questions about real estate.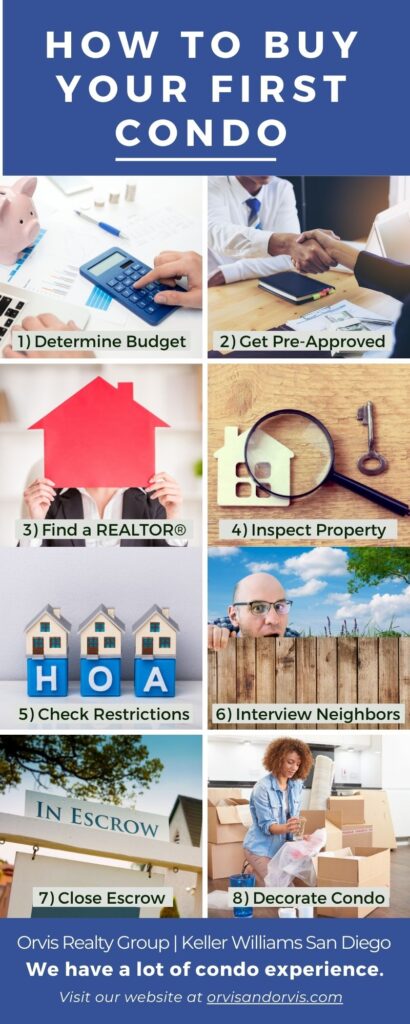 References: