Buying your first home is a right of passage similar to getting accepted to college. You can afford to finance a home, and they want to sell it to you.
It is a common misconception that it is too expensive to buy real estate. The truth is that you cannot afford not to buy real property, in more ways than one. These are five good reasons to invest in real estate.
1) I need a 20% down payment.
The average down payment for residential real estate in 3% to 10% according to national statistics. First time home buyers may qualify for 3% down payment mortgages from lending institutions.
For example Fannie Mae was founded in 1938 to provide a route to home ownership for lower income individuals who otherwise would not have been able to get a home loan from the banks.1
So if you wanted to mortgage a home that was listed at $550,000, a 3% down payment would be $16,500. That is $93,500 less than $110,000 (20%). It is much easier to save up $16,500 than $110,000.
2) My credit is not good enough.
If your credit is 580 or above, which is considered fair, then you qualify for a home loan. If your credit score is equal to or less than 579 you can still get a mortgage, with a down payment of ten percent or more.2, 3 If your credit score improves down the line it is possible to refinance the home loan at a lower interest rate with another institution.4
Federal Housing Administration (FHA) home loans with a 3.5% down payment are available to first time home buyers. These loans are insured by the FHA, and can be refinanced.
3) It's cheaper to rent than own.
A significant portion of income goes to the rent each month. That money could be paying off a mortgage that builds equity for the home owner. When you have real estate property to leverage, you can refinance the mortgage over and over again to qualify for additional loans. When it's time to move you sell the property and the bank transfers the value of the property to your account, minus any encumbrances you may have incurred. Anyone can make money by investing wisely in real estate and maintaining the property.
4) I have to pay off my student loans before I can get a home loan.
A lot of first time home buyers have student loans. It is a good thing to have student loans because it is proof of a college education. You qualify for a mortgage without paying off your student loans, provided you have maintained a decent credit history. It may even help you pay off the student debt if your monthly mortgage payment is less than what your rent would be.5
5) I can't afford the property I want.
You can still build equity even if you cannot afford your dream home today. It is possible to invest in a starter home, such as a condominium or a trailer. After your credit score improves following regular payments, sell the property. Then use the selling price of the home as a down payment on a better house. Or leverage the first property to get a loan for a second property, and rent out the first one.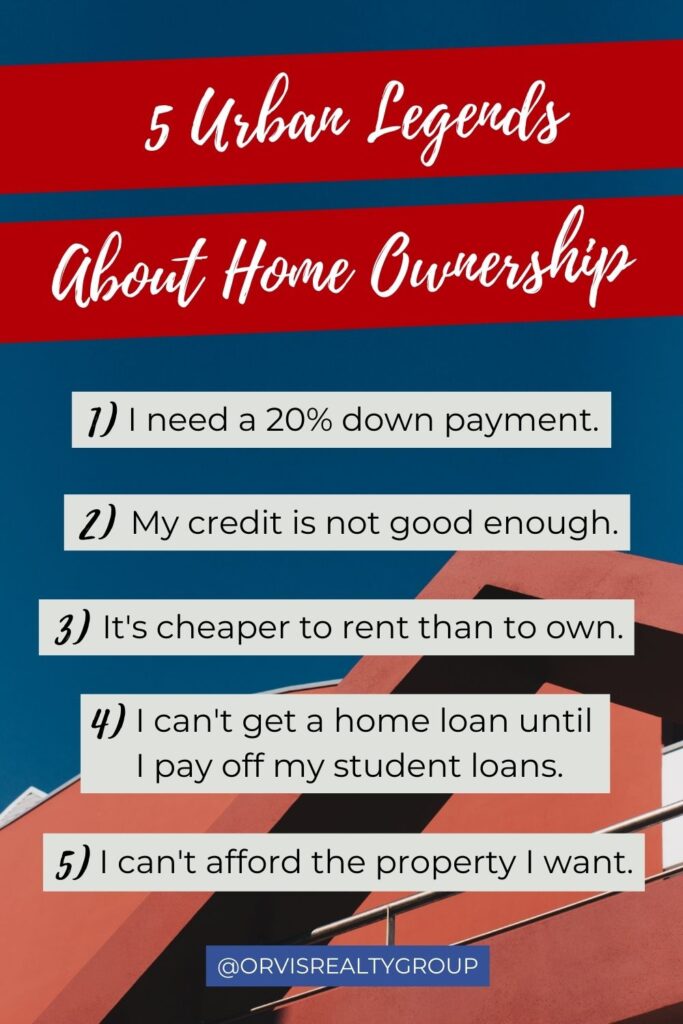 References: